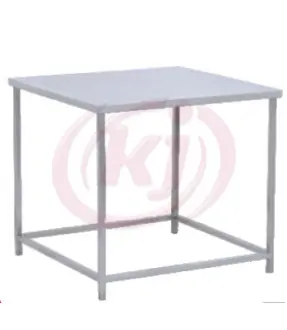 We've earned a reputation as one of the best SS Working Table manufacturers, suppliers, and service providers in Baroda. These office tables are made with high-quality materials, contemporary tools, and cutting-edge technologies. We have customized these tables to our customers' specifications and sell them at extremely low pricing. We have industry experts and professionals on staff to create superior office tables. These tables are considered top-of-the-line office furniture.
We add multiple cabinets and plenty of space on office tables to accommodate a variety of products. They have a matt finish and have been buffed. They can accommodate two or more computer components. They have three 6-inch pull-out drawers with a movable upper shelf. Our produced working tables find their valuable space in almost all hospitals and pharmaceutical industries. We supply them in a variety of sizes so you can contact us anytime whenever you require assistance. It is the trust of several entrepreneurs in our products that has made us leading suppliers of SS working table in Baroda, India.
SS Computer Table with CPU Stand
We are the leading manufacturers of SS computer table with CPU stand. This type of computer table is greatly used in hospitals and clinics, where patients are hospitalized and several instruments are used for cure including this working table. The table is obtained using premium grade stainless material; the entire structure is of stainless steel.
The table has long-lasting service and stability in operations and is easily adaptable to different places. We have employed professionals that are experts in understanding the requirements of our valuable patrons and have consistently designed SS computer table with CPU stand with considering the comfort motives. The range is available in different sizes and dimensions. Clients are highly satisfied with the sale and support.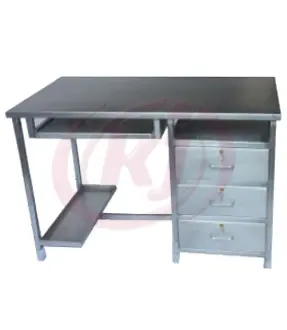 SS Office Table with Cabinet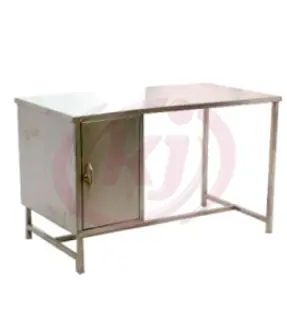 We are the leading manufacturer and supplier of fine quality SS office table with cabinet in India. We never compromise in framing the quality standards of the cabinets we provide. The quality reliability and service that over office table and cabinet offers is unconditional. We have worked in compliance with the international quality norms and guidelines that make our produced SS office table with cabinets be globally accepted by all means.
Our engineers are specialized with the skills for understanding the consumer expectations and have framed the equipment considering the comforts. The presence of a cabinet with a table allows the user to put essentials in a nearby place and can be used again and again.  The user gets the benefit of a rust-free experience by using our tables with cabinets. The table is highly durable and stable in service. The offering is available at a cost-sufficient price rate so you can have bulk orders. We are engaged in the exports too.